---
Photographers can create a scene, bring a subject's vision to life, and get lost in moment with their photos. The ability to take a photograph of something or someone gives an individual a sense of freedom…freedom to capture, freedom to explore, freedom to imagine. A photographer has the ability to engage in some of an individual's most intimate moments. The possibilities are endless.
 Gene Smith is a photographer from Buffalo, NY. He has a Bachelor's Degree in Biology and a Psychology Minor from D'Youville College. After college, Gene discovered his passion for working with students in education. Currently, Gene works as a behavior specialist in a high school.  "I like to call myself a counselor without the counseling degree" Smith says.
Smith's Love For Photography
In college, Gene started modeling. He decided that he had his "own eye and vision when it comes to creating art." After college Smith got into photography. His passion became Photography. Gene's first camera was a Canon T6 Rebel. With this camera he would provide people a sense of comfortability and confidence through his art. Currently, Smith uses a Canon Mark III.
Often times, people see the potential in others that they may not quite recognize themselves. This may serve as the driving force behind an individual's inspiration to pursue an interest. Gene was inspired and influenced by his family and friends. "They [would] say how I could create magic on my own. So when I finally started to create my own work, I instantly understood how much photography meant to me" Smith explained.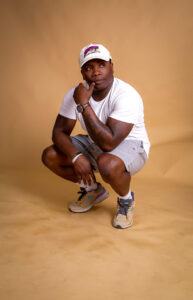 Smith's Business
  Named as such to maintain positive energy around others, Gene's brand is called EnerGized Photography. "In my truest opinion, having this contagious energy that is positive brings the best out of others and it helps one see the realness that they possess within themselves and others. To see someone smile after the work I've created for them is always a plus and that's part of the reason why I continue to do it." explains Smith. Maintaining consistency, balancing personal and business life, and purchasing equipment that is beneficial to business success are his  biggest challenges to having a small business. Currently, Smith has everything that he wants or needs to be a successful photographer.
Fun Facts
Smith love movies
Smith has two kids (a 5 year old and one on the way in August of 2023)
Smith has "tattoos that will tell me a story of my life."
Basketball is Smith's favorite sport and  helped keep him out of trouble.
Smith is a big music fan. Music is "just a key to the soul. I don't know how to fully explain it but it always keeps me sane" Smith explains.
Smith says, "I'm a big kid at heart and I'm always trying to find new things to learn add to my lifestyle."
Follow Gene Smith
🙂
---