---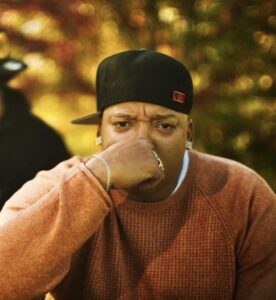 Jhony Onist, is a rap artist originally from Manhattan. However, he has resided in Buffalo, New York for most of his life. Jhony represents Buffalo to the fullest, while still acknowledging his Mid-town and Harlem roots. To fully understand Jhony Onist, you must first listen to his music and then you will gain the knowledge that he is "everything and nothing all at once. A puzzle wrapped in an enigma. Inside of a conundrum."  Music, itself is influential in Jhony's life. Growing up, he listened to all genres of music. For instance, Jhony listened to Michael Jackson, Poison, Prince, the Eagles, The Monkeys, Kenny G, and Wutang just to name a few. That is a vast array of music. Very interesting! The greats of hip hop's golden era are Jhony's biggest influences in music. In Jhony's heart, "Michael will always be my idol and source of inspiration."
As a Buffalo native myself I enjoy seeing artists come from my city. There's something nostalgic about it. If given the chance Jhony would like to collaborate with Conway the Machine because he is from Buffalo and has become successful. "Griselda brought hope to a poor city and sparked a flame in the underground of rap here again. I'd like to round my features list with Conway, give him his flowers, and be a part of history. " I love the fact that Jhony represents his city hard and wants to collaborate with Conway. I think it is amazing to see artists show each other love and respect. To me there is one end goal in mind: SUCCESS! Showing up for and supporting others helps that success grow.
Every artist is unique, bringing something different to the table. I was curious to know what sets Jhony Onist apart from other artists. His raw and candid response was everything. "I onistly don't know anymore. I would have to say my voice I guess. Also I really do this for the love of the culture, have not really tried to make a dime off of it. Some may call me foolish. I also direct my own videos. They come out pretty nice with the help of black belt jones behind the camera." Wow…can we run that back?- "For the love of the culture." That's deep and humble, in my opinion.
Challenges
All things in life come with challenges, obstacles, or road blocks. It is how one attempts to redirect him or herself in overcoming said obstacles that is the key. Sometimes we have to dust ourselves off and retry. Sometimes we have to find new ways of doing things.  This is what Jhony has to say about the obstacles he has faced as an artist-"Getting over the age thing and trying to stay relevant while working full time and dealing with my alter ego and his professional life and relationships with family and significant other. It's hard being two people and trying to excel in each separate life at a high level." Wow! I felt that!!! No elaboration needed.
In overcoming these obstacles Jhony tries "Hard. Then harder. Then alcohol. I pray. More alcohol.  [I] Get help from friends in the biz and advice from people who care for me. I fuck up a lot too. Nobody's perfect." I can relate. Nobody is perfect. We just have to do the best that we can and give ourselves a little bit of grace in doing so.
Advice
At some point in elementary school I remember a teacher telling us that we should never give another person advice. Said person might come back to us and get mad at us if our advice fails them. I agree to an extent. However, I think advice can serve as a learning tool. I asked Jhony what advice he would give to someone that is up and coming and trying to reach success. Here's his response. "DONT QUIT. It's a hard industry and you're going to be faced with many obstacles and you're going to want to quit at times. I did. But keep pushing. It will work out one way or another. Look at those who gave up. Don't be afraid to put some money behind yourself either. It's very necessary." WOW!!!!
Fun Facts
Jhony is a closet nerd.
Jhony used to be very shy.
Jhony has had confidence issues.
Jhony loves video games.
Jhony loves his cat 'Jinx'.
Jhony works full-time for the City of Buffalo Parks Department.
Jhony enjoys time alone.
Jhony is the onwer of OMG- Onist Music Group.
Amazing and candid fun facts!
Social Media
You can find Jhony Onist on FB. IG, and all major streaming platforms as Jhony Onist
"There is no other JHONY ONIST in the world. I'm pretty easy to look up."
🙂
---