---
It's the early 90s on the East side of Buffalo, New York, the parents in the house- children outside. Younger kids are playing house, riding their bikes, or  playing board games on the porch (board games were used more on rainy days). Most times, the boys were playing street football and the girls were doing each other's hair on the porch cheering on the boys. The older kids were hanging out on the street corner admiring the graffiti on the trains. Yet, other times all the neighborhood kids were walking to the corner store to get penny candy, a 25 cent bag of sunflower seeds, or a 25 cent bag of chips and/ or juice. Night time was the best. Hide and seek games lasted for hours all were include young and older kids. And, yes, the street lights were on!  But, the neighborhood kids were still outside. There was always music. Someone always had a radio with the newest tape in it or a Walkman playing. Many times, the sounds of music blared from neighbor's windows. Some of the popular songs out at this time were Bone Thugs in Harmony's 'Thuggish Ruggish Bone', Notorious B.I.G.'s- One more Chance, Craig Mack's 'Flava in Ya Ear, and Wu Tang's 'Tikal'. Music was our culture we would sing along with the song, tape our favorite songs off of the radio, try and mimic the beat of a song on a table or other hard surfaces (the siding of our houses often served as the place we'd simulate a beat). There is something special and nostalgic about 90s music and neighborhood culture.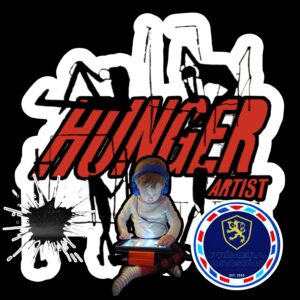 Who is Hunger Artist?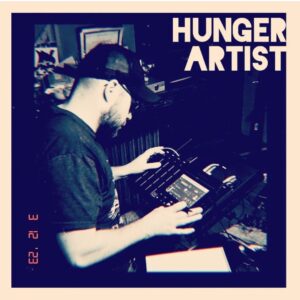 My perspective- I first met Hunger Artist when I was 10 years old. My family had just moved in across the street from him. Immediately I took a liking to Hunger. He was very kind, down-to-earth, respectful, and knew what I thought at the time was everything about music. One of my fondest memories was his excitement to talk about the new Grave Diggaz tape he just bought. I knew nothing about this group. All I knew was what came on the radio.  But Hunger sure did. But he knew more in depth what an artist and their music stood for. He was like the person you see in the movies that had every album you could think of and could explain what he liked about each album and artist and what he didn't like and why. In my eyes, he was very knowledgeable where music was concerned. At some point, I remember Hunger taking up an interest in creating beats. It was at this point that I knew he would go on to create music. It's one thing to create a beat on a table and another to bring that beat to life that so it can be recorded and shared for the world to hear.
His perspective-  Hunger is a 90s kid who grew up on the East Side of Buffalo and loves Boom Bap Hip Hop. He currently resides in the city with his wife and two young children. In his spare time, away from his 9 to 5 Hunger is a music producer. He enjoys making beats for the  love of music not for monetary profit.  Hunger prides himself on having a unique style where all of his beats do not sound the same. He uses both samples and his own creations and loves drums the most. Sometimes Hunger creates beats that have nothing to do with Hip Hop. He just enjoys the creation.
Biggest Influences
90s Boom Bap hip hop is Hunger's biggest influence in music. Nas, Wu Tang, Mobb Deep, KA, and Black Thought are some of his favorites. He enjoys listening to Underground and Independent artists. The top three music producers in Hunger's opinion are El-p, RZA, Premier,  and Alchemist.
Albums  Produced
Hunger has produced a full album for Speedie the Icon as well as Father Baker. He has also produced songs for KPrez and Arsun F!st. If he could produce for anyone it would be Billy Woods, Aesop Rock, and Conway.
Fun Facts
Hunger is a Liverpool Supporter
Hunger has an admiration for art
Hunger paints in his spare time.
Hunger uses an M.P.C. live, keyboards, and a synthesizer to create his greatness.
Check Out Some of Hunger's Work Here:
https://www.youtube.com/watch?v=Gcqjr77YLSo&list=OLAK5uy_mjUw3NWLx2sXhgzM2CFIkqjI0hz6aYo5I
https://music.apple.com/us/artist/hunger-artist/1604640710
https://www.youtube.com/watch?v=CbR9cK1Y4CY&list=OLAK5uy_kdwDlbKu6kV7bS5vz-aavvxSxvCFC692Q
---