---
Amari Mosby: Paving her Path to Distinction
We've all heard the sayings- "The Sky is the limit", "Reach for the Stars", and "The World is Yours"! While these expressions may sound cliché they are seemingly true.  Given the right tools, and personal motivation, all individuals have the potential to hone in on their creative idiosyncrasies.
I interviewed a young woman named Amari Mosby on  April 21, 2023. After the interview I said to myself, "this young woman is going big places". To say I was impressed would be an understatement. I could not tell Ms. Mosby enough how proud of her I was. Read on to learn more about Amari.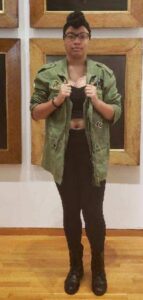 Who is Amari Mosby?
Amari describes herself as a "Revolutionary at Heart." Amari is always up for a challenge and presents herself with a disposition that she is wise beyond her years. She carries herself with such elegance and grace.  Amari is ambitious and motivated. She is dedicated to her loved ones and to her craft. "I am creative at heart especially when it comes to my schoolwork or loving someone" Amari states.
Dionne McKenney, holds her daughter Amari in a very high regard describing her as a "confident, very loving, genuinely, compassionate, generous, and kindhearted person." Ms. McKenney is certainly proud of her daughter and is very supportive of the young woman she is blossoming into.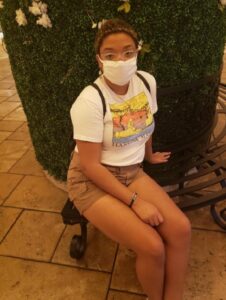 College Journey
Amari Mosby is a Senior at Kennesaw State University (KSU) majoring in Media and Entertainment. Film is Amari's passion. During the COVID 19 pandemic, Amari was forced to leave her dorm life and return home to conduct her studies online. This was certainly an adjustment for Amari. Subsequently course difficulty picked up, but she persevered. In her Junior year, Amari began media projects and podcasting work. It is here that she delved into the photography and film realm working with a camera and doing editing work. For her capstone graduation assignment Amari completed a podcast that addressed minority representation in the film industry. As a youngster, Amari felt the need to see minority representation as she would watch television, taking note of a lack of people that looked like her in a film. Amari explains that her Capstone was the "Greatest project I've ever done!"
Aspirations/Goals/Hopes
Currently, Amari freelances under her business name Nerdilotti Productions. She has completed Boudoir, graduation, and prom shoots. She has also photographed events for 'Flava 1 Day' for Flava1 Radio. Amari aspires to "own a full multimedia studio that bolsters minority representation and influences minorities to infiltrate Hollywood." Amari also hopes to ensure that everyone she loves is taken care of. She plans to bring her loved ones along with her on her road to success. When it comes to Amari's nieces, she instills in them to set goals that are realistic, run their own races, and meet their own goals.
A Picture is Worth 1000 Words
There is a saying that a picture is worth 1000 words.  Photographs have a way of showing the viewer what is happening in a picture without words or explanation.  As a photographer Amari enjoys being able to capture candid photos of individuals in their element and seeing their investment in what they are engaged in. Amari feels that she should be invisible when she is taking a picture. She does not want the subjects to acknowledge that she is there.  Amari prides herself on not standing behind the camera shouting out directions (i.e. stand here, look this way, smile bigger, etc.). Amari believes that "as photographers we should not verbalize, it should come through in our product."
Fun Facts
Amari learned fencing as a sport.
Amari learned to play the Viola and is a self- taught Piano and Guitar player.
In high school Amari aspired to be a Fashion Designer.
Amari toured Spain, Portugal, and Morocco with her Latin class in High School.
Amari fell in love with video content as she enrolled in an Audiovisual class.
Amari is graduating as a Summa Cum Laude student.
Amari is multitalented. She explains, "I thought I was a one trick pony and all I would do is film." Yet here she is engaged in all sorts of multimedia. Amari Mosby is an amazing young woman. I truly wish her the best. I know she will go on to do amazing things in life.
View Amari's Portfolio Here:
https://amosby4.myportfolio.com/home
Check out Amari's Capstone Project 'Outcasted' here:
https://www.buzzsprout.com/2169053
Congratulations Amari
🙂
---
Reader's opinions
---