---
Every now and again a person piques our interest for one reason or another. Aaron King is one of these people. His story is amazing. King, a Buffalo native, started his musical journey at five years old playing the drums in church. He grew up listening to gospel and worship music. As a teen, King was introduced to hardcore and metal music. He was immediately hooked on the aggressive sound of this musical genre. In his senior year of high school, King  joined his first hardcore/metal band named Thorax Collapse. The band played the local Buffalo scene.
King then went on to play for various bands over a 15 year time span. During this time he toured throughout the U.S., Canada, Mexico, Europe, and England. King explained this time period as, "A wild ride" and went on to say, "I am grateful for the experiences I had."
Fun Facts
King's touring bands were named:
The Line Dance Massacre
Rhinoceros
We The Broken
KDC
What has King been up to lately?
Currently, King goes by the moniker xI Am Kingx and works solo on music primarily out of his home studio.
Philosophy
"I enjoy the change of pace and creating music on my own, but a part of me will always belong to life on the road!"
"Music has been my main outlet throughout more of my life than anything!"
Social Media
Get to know Aaron King on these platforms
Instagram https://instagram.com/aaronkingmusicx
Spotify  https://open.spotify.com/artist/7b7hkGyGgxvfIXwxr4cjOQ?si=E0OiVS_ASs2MzuGOojq4uw&nd=1
Apple Music https://music.apple.com/us/artist/xi-am-kingx/1509775703
Band Camp https://xiamkingx.bandcamp.com/
Amazon Music https://music.amazon.com/artists/B087Q281ZL/xi-am-kingx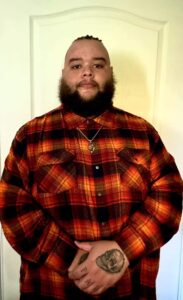 ---