---
One thing that I enjoy seeing is people lifting each other up!!I feel even more joy when I see women supporting women. Why? Well,  number one because I am a woman. Number two because woman often have a tendency to tear each other down in catty competition instead wanting each other to win. When think of a good example of a woman that supports other women I think of none other than singer, songwriter, and rapper- JuicySmoola!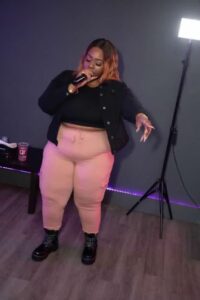 WHO IS JUICYSMOOLA?
"JuicySmoola is a raw yet sensual artist from Charleston, SC. Her Gullah culture, no nonsense demeanor and her geechee dialogue sets her apart from the rest. Versatility is the name of the game with Smoola. You literally get it all; the talented songwriter, the soulful singer, and the carefree rapper. Music has always been my passion. It literally runs in my family, both my mom and dad side. I was singing songs before I could read the lyrics. Honestly, music was my first love at a young age. No matter what phase of life I'm in; music has always been my safe haven. Ultimately I'm a real person, with real passion, and I have a story to tell. Being an artist allows me to be heard and felt." Can we run that back? " Being an artist allows me to be heard and felt." Wow this speaks volumes. Music not only impacts us as listeners but it also impacts the musician. It becomes a symbiotic relationship.  The artist creates the music to get emotions and feelings out into the universe and the listener plays the music to hear and feel what the artist is experience. Both serve as therapy to each the artist and the listener.
MUSICAL INFLUENCES
JuicySmoola has an amazing range of musical influences.  These include (and are not in any specific order) Missy Elliott , Mary J Blige, Lauryn Hill, Erykah Badu, Beyoncé, Lil Kim, Nate Dogg, Tupac, and Amy Winehouse. What an impressive list! R& B is JuicySmoola's favorite genre of music. 'When I tap into my "singer mode" I'm digging deeper into my emotions. I call that real music. I love it all but the real is my favorite hands down." I love this. R & B has a way of pulling me myself into my emotions. I feel a deep connection with R&B as well.
ADDING VALUE TO LIVES
I am always curious to know what an artist hopes their  music will achieve. I like to ask this question because everyone has a unique answer. Something that holds dear to them specifically. And the best part is that there is no wrong or right answer. I aske JuicySmoola what she hopes her music brings to the world. This was her response, "I hope that my music adds to the Female take over that's going on right now. I want my R&B music to let the ladies know it's okay to cry; just dry them tears after. On the same note; I want my raps to give them the freedom to let loose and cut up. Life is too short to care about who's watching even you "do you" ". This is what I meant in my introduction to women supporting women. Without a shadow of a doubt JuicySmoola is supporting other women and normalizing it.
FUN FACTS: 
Juicy is confident, real, and motivated
"I am the peoples favorite BBW. It's my confidence, my realness, my style all the way around. When I say "I'm big mama , keep a [man] in his place …" I really mean that. I'm really cut like that! All jokes aside, besides doing this for myself, I do it for my fellow big girls. Why? Society has this stigma that bigger is equivalent to less than. When in reality, a Fupa never stopped anything. "
"On a music tip, I'm currently working on a new project with a great team. My plan is to step on necks like I always do, just taking it up a couple of notches. I honestly can't wait until my people get to see what I've been working on."
Stayed tuned on Monday October 02, 2023 @ 8:00pm EST for JuicySmoola's exclusive Live interview with DJ Unknown on Flava1Radio's Monday Madness Show! JuicySmoola will debut her song 'History'! You don't want to miss this!!
SOCIAL MEDIA
FB: JuicySmoola
IG: diamondd_intherough (JuicySmoola)
🙂
---