---
---
DJ Clay Nice shows
---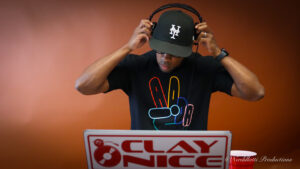 DJ Clay Nice has developed a strong ear for great music and demonstrated a real talent for rocking crowds during his 25-year career as a club, lounge, and private event DJ.  With residencies in New York, Los Angeles, Philadelphia, and Atlanta, DJ Clay Nice has earned a nation-wide reputation for bringing the perfect musical vibe for any crowd in any situation.
DJ Clay Nice's early influences while growing up in Queens, NYC include family members who sang, played a multitude of musical instruments, and collected thousands of records.  A hip-hop kid at heart, he was amazed at the talents of radio mix-show DJs and how they selected the hottest records every week for the tri-state area with incredible skill.  He got his first taste of rocking his own crowds in high school with bags of cassette tapes and CDs.  Then after learning how to use turntables in college, he bought his first set of Technics 1200s with his first post-graduation paycheck.  It's been on and poppin' ever since.
These days, DJ Clay Nice specializes in rocking "grown and sexy" crowds with the best in hip-hop, reggae, R&B, classics, and house music spanning from the Motown era to present.  Primarily still using the turntables he bought after college, his style incorporates classic b-boy turntablism/juggling, smooth melodic mixing/blending, dancehall "selectah" vibes, and new school innovation to create musical experiences that party people remember long after they settle their bar tabs and go home.
You can catch DJ Clay Nice every Friday night on Flava1 Radio at 8pm eastern USA time.
---